About the Practice
Minerva teaches with love and a passion to bring her students into their bodies, their strength and their hearts. Through teaching, Minerva is able to spiritualize the physical form through creative vinyasa sequencing, alignment cues, breath awareness, while honoring the teachings of Yoga, Ayurveda and the energies of the chakras. Each class leads to an organic unfolding, each step preparing us for the next, culminating in a deep relaxation and introspection.
In the Bhagavad Gita, Sri Krishna explains to Arjuna the meaning of Yoga as a deliverance from contact with pain & sorrow. It is said: "A lamp does not flicker in a place where no winds blow; so it is with a yogi, who controls his mind, intellect and self, being absorbed in the spirit within him. When the restlessness of the mind, intellect and self is stilled through the practice of Yoga, the yogi by the grace of the Spirit within himself finds fulfillment."
The eightfold path, as described by Patanjali in the Yoga Sutras, lays out the means in our quest for reunion with our Soul. The Asanas, or physical poses, which has become the 'face' of yoga in the West is only the third limb, in this one path of Yoga. However, given the way we live our lives it's an integral piece of our overall practice of Yoga. The Asanas keep the body healthy and strong and in harmony with nature.
Start your day off with a simple
15-minute morning yoga practice.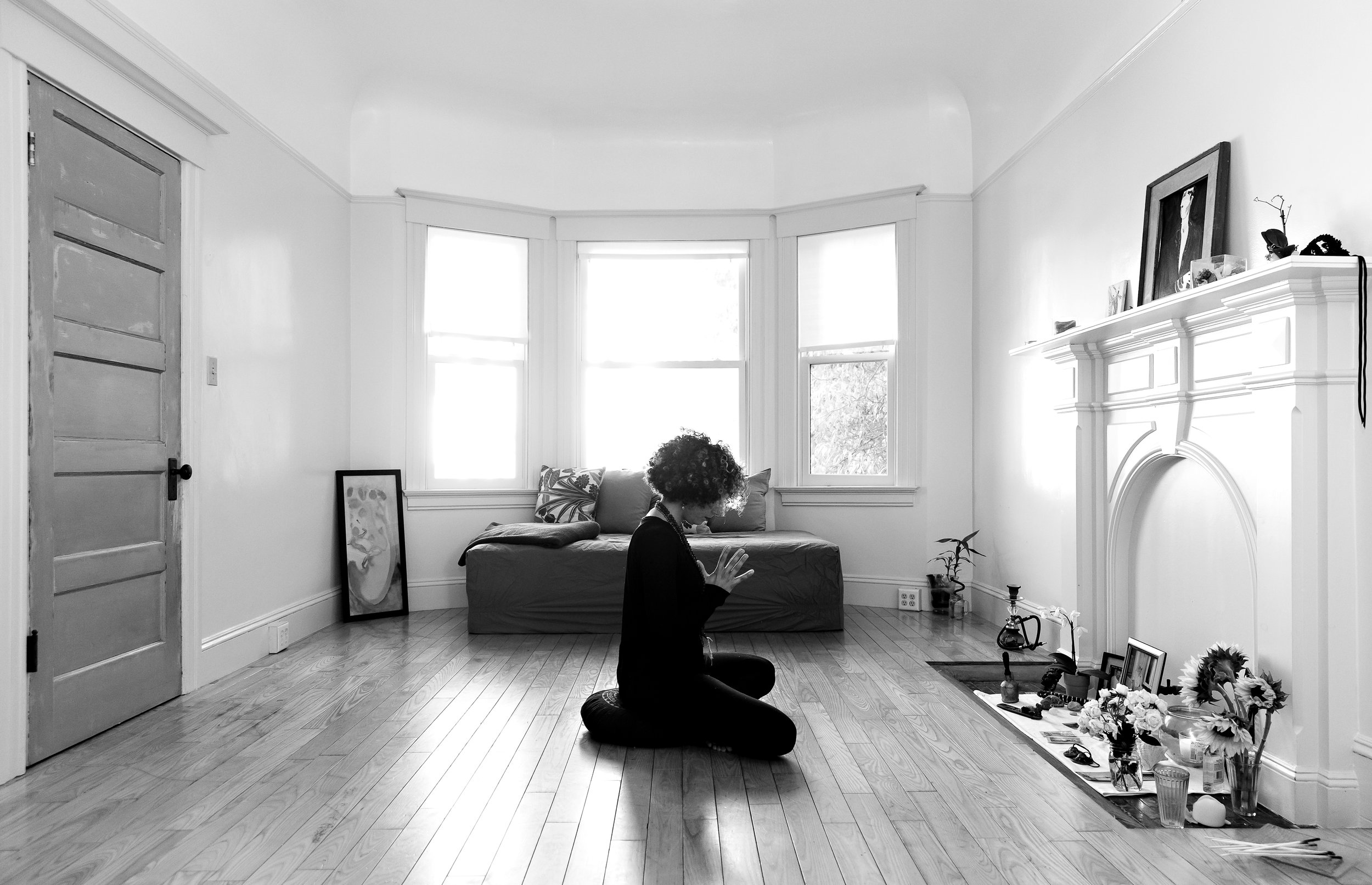 #MagicMondays
Yoga for People of Color
A small group class from 6:30-8:00pm, magic Monday yoga offers people of color with an existing practice to take it a bit deeper. This class includes a dynamic sequencing, pace, yoga philosophy and asanas to offer students a chance to dive deeper into their body, mind and spirit. Culminating in restorative poses at the end with a longer meditation and savasana. Sliding scale $18-20.
Join every Thursday from 6:30 pm - 8:00 pm. Enjoy the space created and held for Brown & Black folx to enjoy a vinyasa style flow, a soulful playlist, creative sequencing and build community. Wear comfy clothes and bring your mat, your friends & family of all ages. sliding scale: $15-18 per class. Ten-class cards available.
An intimate evening of yoga, tea and breathing space. Join Minerva for two hours where she'll guide you through gentle warming yoga asanas followed by a full restorative yoga sequence using bolsters, blankets, belts - the works to turn you into a human burrito to allow your nervous system to deeply relax. Followed by tea and a soft reintroduction back into the groove of things. Click here to find out when's the next class and to reserve your spot!
Join Minerva for a Friday Flow from 6:00 - 7:15 pm at the Green Yogi Berkeley - 1642 Martin Luther King Jr Way - for one of her signature classes combing her love for yoga, music, the body and our breath!
Sign up here.
I have taken many yoga classes at different studios and with many teachers. Minerva is one of the best yoga instructors I've ever had.
— C.P.
Private & Group Sessions
Click HERE to inquire about one-on-one yoga, group and meditation sessions.

An individual session caters to the healing needs of the individual on a physical, mental and spiritual level.

Group sessions are perfect for a group of friends who want more individualized attention than studio classes from the comfort of their home, or the intimate setting of the Roots healing yoga center, depending on group size.
Sessions can take place either at the Roots healing yoga center or at the clients home.
Click HERE to bring Minerva to work!
It's no secret that sitting at a desk all day does damage to our bodies in many ways. Bring lunch-time or after-work yoga & meditation to your office, your workshops or retreats.
Minerva has over ten years of program management experience in the non-profit and public sector. Before being introduced to yoga, she was always driven to lead with mindfulness and creating balanced, healthy work environments. Having the teachings of Yoga and Ayurveda adds to Minerva's holistic, comprehensive management style. She is committed to bringing her management and leadership experience combined with her Yoga and Ayurveda knowledge into the workplace. Foster healthier work environments with Minerva's guidance with services such as:
Incorporating Lunch-time or After-work Yoga & meditation

Workshops to teach staff how to create work/life balance

Bring Minerva to facilitate staff trainings or retreats

Mindful Management: coaching on how to become a more effective leader and manager
The possibilities are endless!